Growing up, I always wanted to be full Asian. As a mixed-race child, I more closely identified with my Chinese side of the family. Living in a primarily white town, I didn't have many Asian role models or friends. Representation is something where if you don't ever get exposed to it, it's hard to feel like something is missing. I can't recall wishing there were more people like me, but I gravitated towards people I met from a similar background. In a sea of similar people, what seemed like the smallest part of our identity allowed us to form an immediate connection and created a sense of belonging.
Representation is about more than just equality. It impacts self-esteem and even career choice. Cultural socialization and presentation promote cultural and ethnic pride; something studies have linked to self-esteem. As a white person living in a default-white world, it can be hard to understand what this means.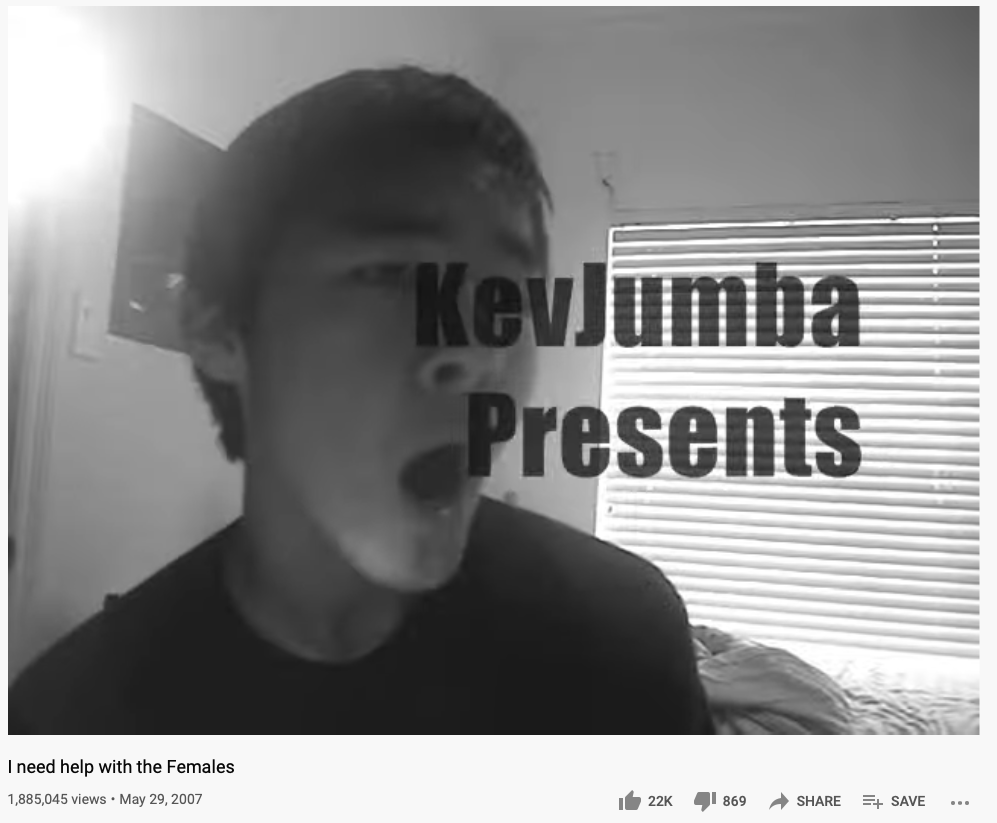 What about visible role models or media figures? Thanks to the internet, I was exposed to a handful of up-and-coming Asian content creators on YouTube, such as Kevjumba, Urban Ninja, Wong Fu Productions. They created content I could relate to and could share with a couple of friends. In the case of Urban Ninja, it even inspired my friends and me to try freerunning for a few months. It did not end well.
User-generated social media platforms (YouTube, Vine, TikTok, Instagram) have started to level the playing field when it comes to representation. Anyone with access to a camera or smartphone is able to create content and build a platform. This democratization of creation unlocked a whole wave of creators. Some of the most popular content creators of their time have been people of colour—Nigahiga (YouTube), King Bach (Vine), Michelle Phan (YouTube)—yet popular media is still predominantly white and male. As with all things, mainstream media lags the speed of the internet. When it comes to representation in media, this transition has taken over 15 years. I discovered Asian YouTubers back around 2005 – 2007, and the change is only just starting.
Most recently, Crazy Rich Asians made news after it became the highest-grossing romcom of the past decade. Regardless of what you thought of the movie, it was a defining moment for Asian representation in Hollywood. TeenVogue writes:
In the wedding scene in Crazy Rich Asians, a misty-eyed Constance Wu looks over at Henry Golding as a guitar melody strums in the background. The camera cuts to Kina Grannis as she begins to sing the words to "Can't Help Falling in Love." For most audience members, Grannis was just the wedding singer. But for Asian-American viewers who grew up with YouTube, the singer-songwriter's cameo symbolized something more significant: it was an homage to a generation that had to seek out and create their own representation on the internet when there was little of it in Hollywood.
I can remember watching this scene for the first time in theatres and feeling overcome with emotion. Strangely, I felt proud of Kina Grannis for making that leap from YouTube to the big screen. I'd watched her on YouTube and listened to her music for almost ten years, but seeing her in a movie was different. I grew up going to the theatre and seeing these larger-than-life characters on the screen. To see someone I admire, who I've followed, and who is like me was an impactful experience.
The topic of representation in media has become a recent discussion point for my partner and me. Hollywood media is default-white. As a Filipino woman, my partner couldn't relate to characters in TV or film, but she never saw it as an issue. Despite her subscriptions to almost entirely Asian creators on YouTube and Instagram, it wasn't until Crazy Rich Asians and Kim's Convenience that she noticed what it was like to see herself represented on the big screen. From then on, it was as if a lightbulb went on; she started to say, "it's so nice to see different people," each time we saw people of colour on magazine covers, in TV shows, or as leading characters in movies.
What excites me is this problem almost doesn't matter anymore. Media habits have changed over the last few generations: a shift from studio-created to user-generated content. This has put consumers back in charge of what they want to see. With millions of creators on each platform, consumers are able to find someone they can connect with, empowering creators who wouldn't normally get recognition. And now, as major studios are scrambling to catch up, the next generation has largely moved on. Customers spend more time on YouTube and Netflix than any other streaming service. And thankfully, Netflix has been intentional about casting diverse roles in their productions. The problem isn't going to automatically be solved, but my hope and expectation are that it becomes less of an issue as we have a more diverse array of media and creators to choose from.
The next generation of kids will grow up in a world surrounded by diverse faces on TV and their games. The changing face of media looks promising.